Test Yourself Against An Elite GAA Footballer
If you are interested in comparing yourself physically, against an elite intercounty GAA footballer and a top-tier sub-elite GAA club footballer, you can now book into our Gaelic athletic performance profiling service starting Monday 10th January 2022.
Physical Qualities Tested
You will be tested across a range of physical qualities including:
Body Composition
Strength
Power
Reactive Strength
Acceleration
Maximal Velocity
Change of Direction
Repeat Sprint Ability
Aerobic capacity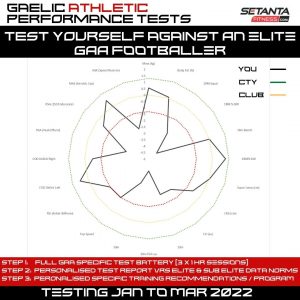 Test Week
Each test week shall be limited to 5 individuals only, at a cost of £150 per person. This includes three days of testing and a full comparison report against both an elite and top-tier sub-elite GAA footballer. Small groups of 2 – 5 can avail of a 20% block booking discount per person (contact tom@setantafitness.com for small group bookings).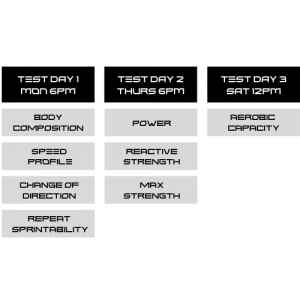 How To Book
Test weeks are NOW LIVE for booking via our Glofox APP and website. Please refer to our website how-to guides for support downloading the app and booking your slot (https://setantafitness.com/how-to-guides/).
Gift A Test
Setanta Fitness gift cards/vouchers (available from the website: https://setantafitness.com/product/gift-card/ ) can be used against this service if you have any GAA mad loved ones who you think would like to test themselves after the Christmas holidays.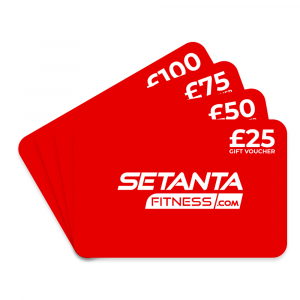 Optional Extra
There is also a non-obligation optional extra to purchase a 3-month training programme based on your test results. All programmes will be customised based upon your tests and delivered via our training app Teambuildr which includes video tutorials of all exercises prescribed. This costs £100 and is available to purchase via the app or website in our membership tabs. 
Need More Information
Feel free to contact us via the contact form below.