S-FIT The New Class Based Training Programme At Setanta Fitness
S-FIT Built On Science
S-FIT is the new class based training programme guaranteed to sustainably deliver on individual training goals across a range of training levels.
The programme has been developed using well researched scientific based training principles (1, 3, 4, 6, 10, 12), which have been simplified for S-Fitters by the MD of Setanta Fitness, Tom Gribben.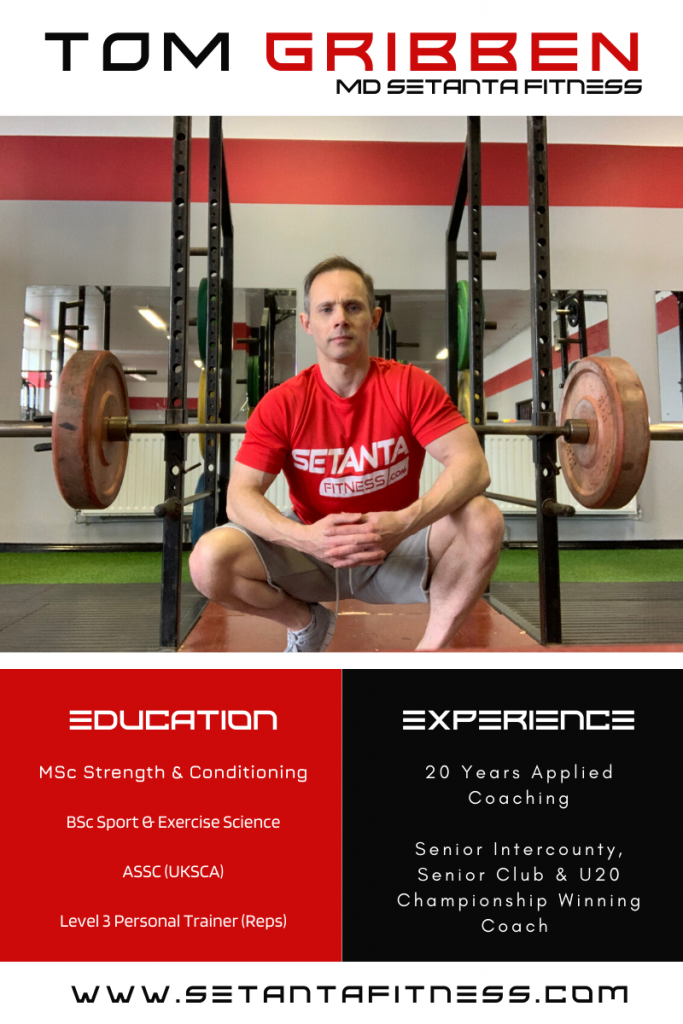 At the core of the S-FIT programme design is an individualised daily undulating training strategy (5).
S-Fitters simply choose how many times a week they want to train and our S-Fit coaches assign you a personalised myzone heart rate training, colour coded, intensity pattern to follow during the week. Its that simple!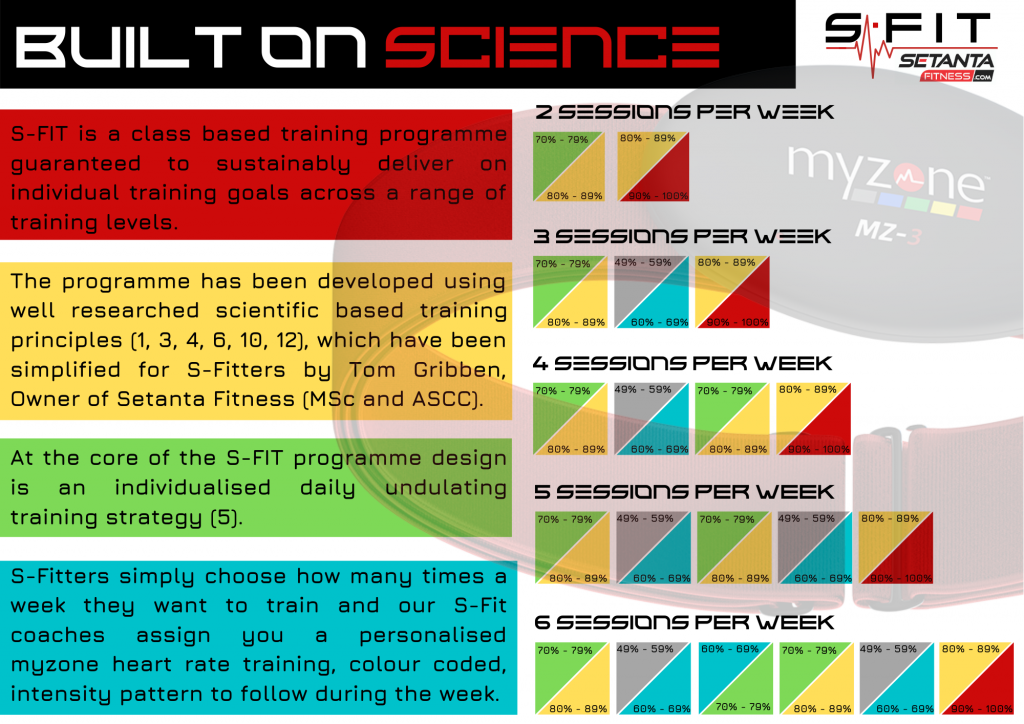 Built To Protect
The programme has been designed to enable the body to consistently go through a stress (train) – regeneration (flush fatigue) – adaptation (improve) process on a weekly basis which has been shown to be an effective training method in both male and female populations (7, 8).
This method therefore aims to minimise the negative effectives of fatigue often seen 3 – 4 weeks into a normal classes based training systems. The accumulation of chronic fatigue that builds up as a result of high intensity training starts to take its toll on the body often resulting in some of the issues below (9)
Demotivation
Muscle soreness, stiffness
Tiredness
Colds
Injury
Menstrual dysfunction
Drop out
Under performance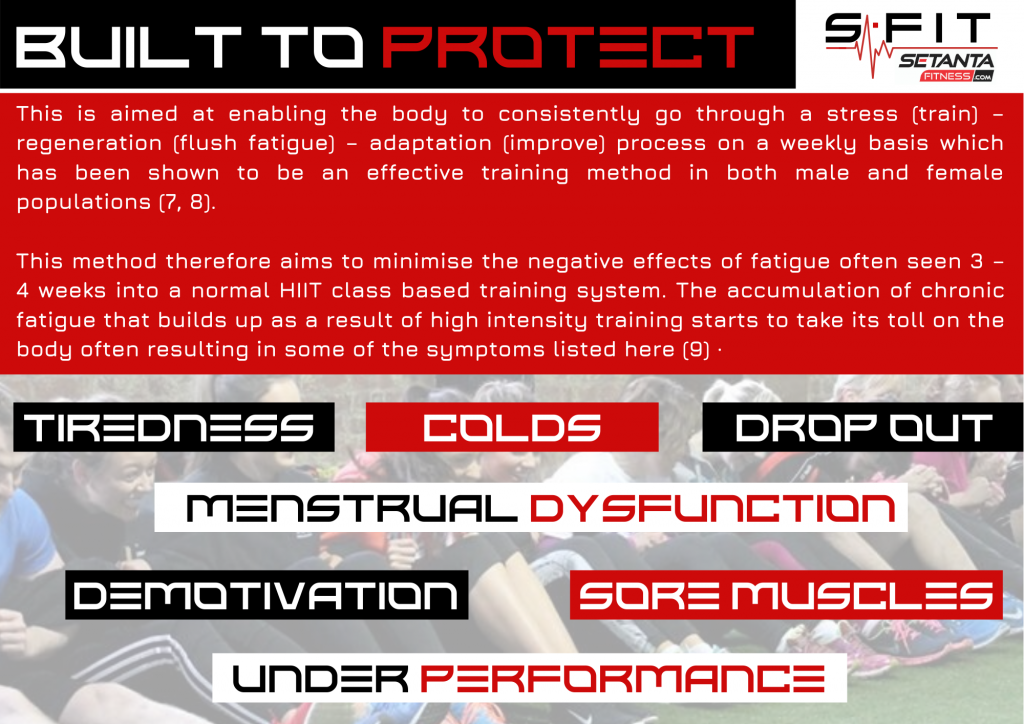 Training Methods
To optimize results, S-Fit specifically targets programming along the strength endurance continuum (11).
Modes of training include functional movements, resistance based circuits and variety of HIIT conditioning methods, including linking with local fitness activities such as park running.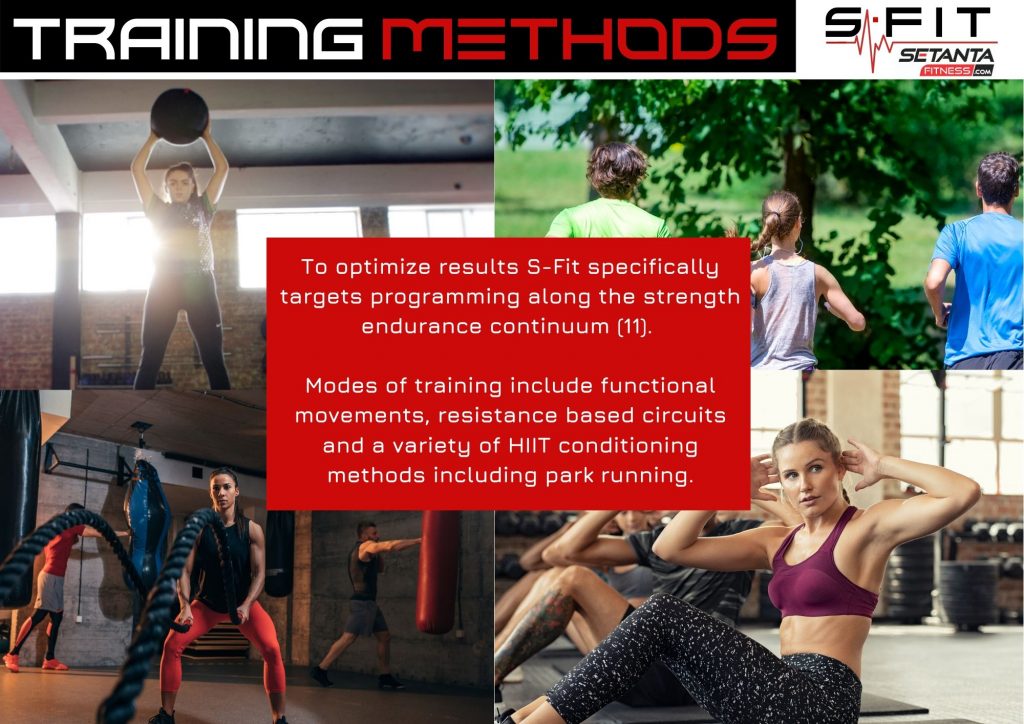 We Build A Plan For You
S-Fitters can start the programme at any time, however, it has been designed as a 12 week integrative sequential training model (6).
Our S-Fit coaches simplify this science by providing each individual with a personal weekly points based target to meet using the myzone MEP's system. This is what is referred to in sports science as quantifying individual training load (2).
This process enables S-FIT participants to safely progressively overload their body each week to optimize getting fitter, leaner, healthier and stronger by the end of the 12 week cycle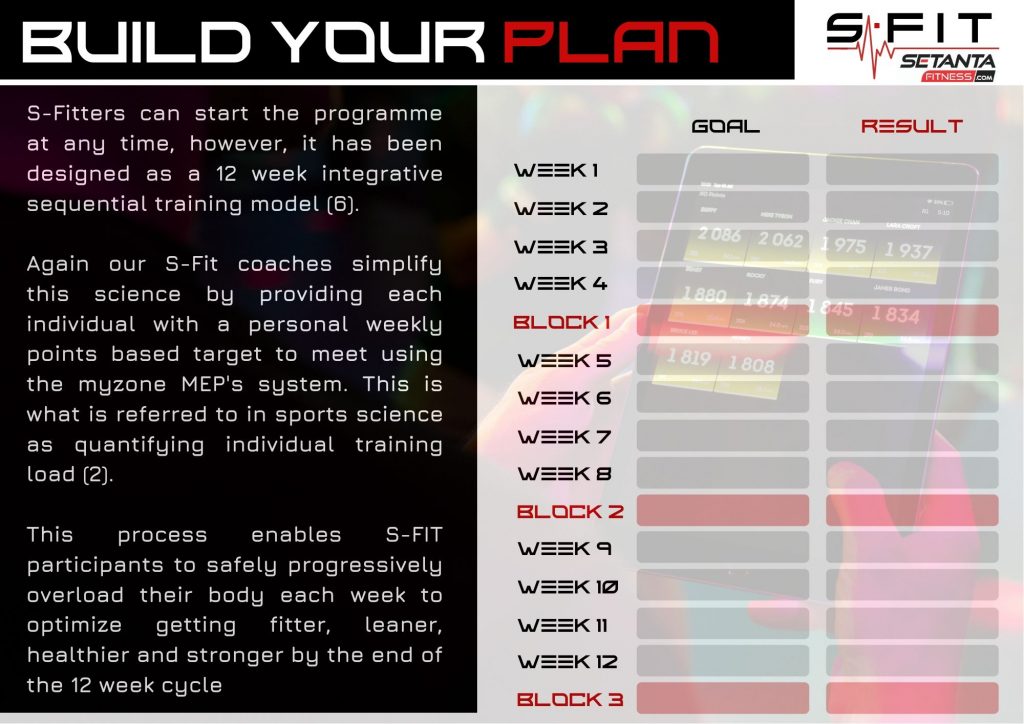 Flexible Timetable
S-FIT has also been designed to be Ultra Flexible to fit around everyone's busy working / life schedules via a drop-in class structure bookings system.
With up to 27  flexible time slots a week resulting in 108 slots a month, S-Fitters will have the ability to book into any class at a time that suits them via the Setanta Fitness booking app on their mobile phone.
Even better our bookings APP enables you to share with your S-Fitter friends what classes you have booked. All thats left to do is both of you to turn up and train.
Our bookings APP automatically provides a waiting list service should a class be fully booked. This means if a member has a sudden change of plan and needs to cancel their class they can do so.
A canccellation opens up a free slot and automatically books the slot for the first person on the waiting list.
The class member who cancels, gets automatically refunded for theircancelled class and allows them to use that refund credit to book future classes. Win Win for everyone!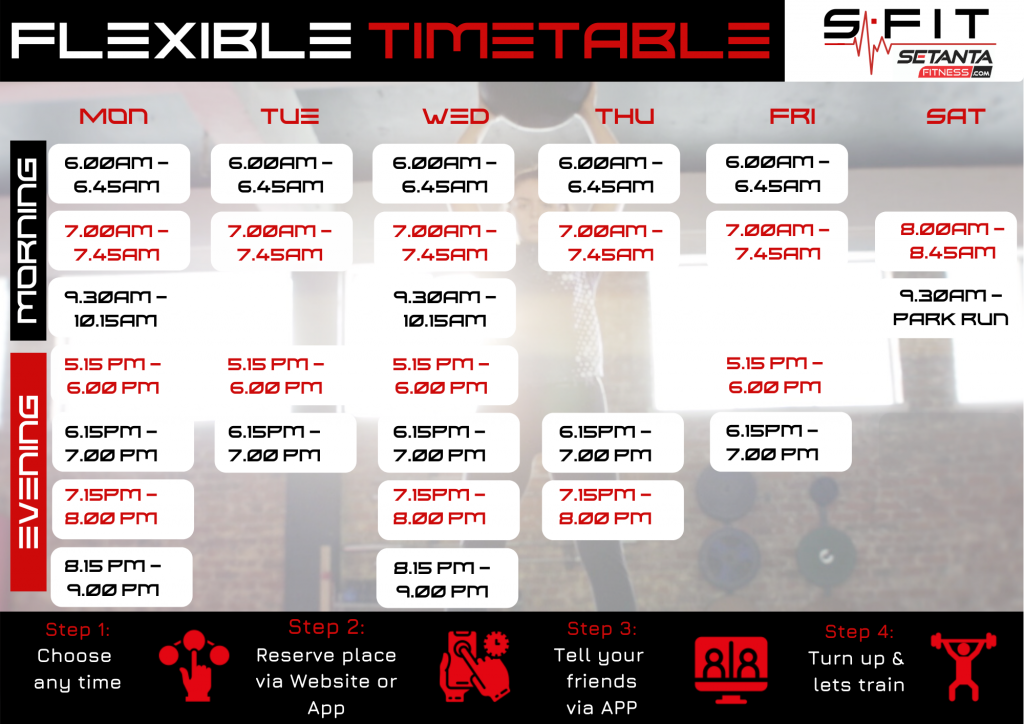 Track Your Progress
All S-Fitters are held to account via weekly tracking measures including weight, body fat, nutrition & sleep quality via your very own Tracking Card which is supplied free of charge at the start of each 12 week cycle or when you join the programme.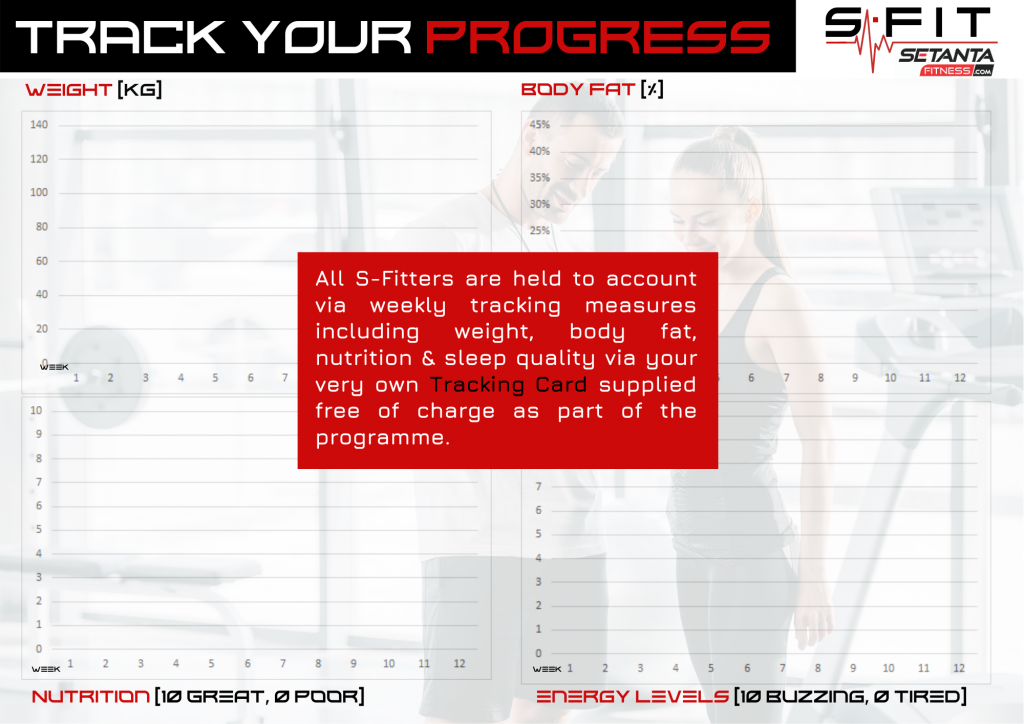 S-FIT Community
S-FIT also includes a community element. S-Fitters have the option to opt-in to the S-Fitter lotto syndicate. Each 12 week S-FIT cycle also culminates in a fun orientated S-FIT community event.
This is aimed at providing a motivating end goal to each 12 week cycle, as well as providing S-Fitters with the opportunity to play hard and regenerate their bodies after 12 weeks of hard work.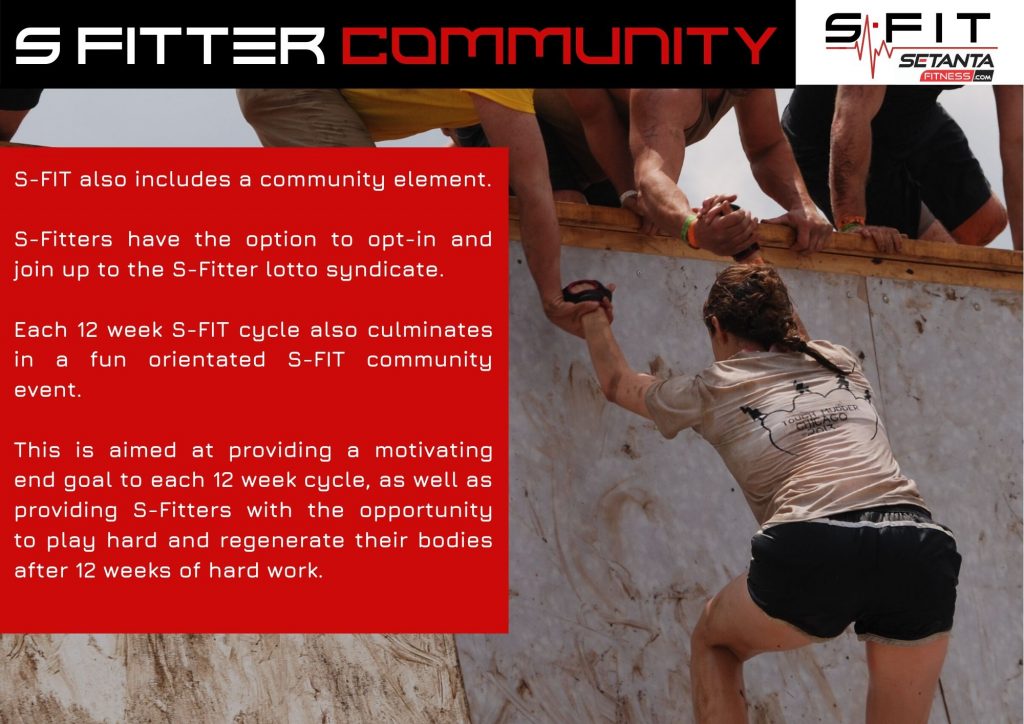 Long Term Plan
S-FIT has also been designed as a longer term sustainable training model. The S-FIT programme achieves this via a continuous 12 week cyclical non-linear periodization strategy (1, 6).
Using the same individual weekly points based system adopted during cycle 1 (1 – 12 weeks), Cycle 2 (weeks 13 – 24) starts with a 5% – 10% higher weekly points target than cycle 1. Cycle 3 (weeks 25 – 36) starts with a 5% – 10% higher weekly points target than cycle 2.
This allows for sustainable increases to continuously get fitter, leaner, healthier and stronger without succumbing to the effects of chronic fatigue or injury as mentioned previously (9).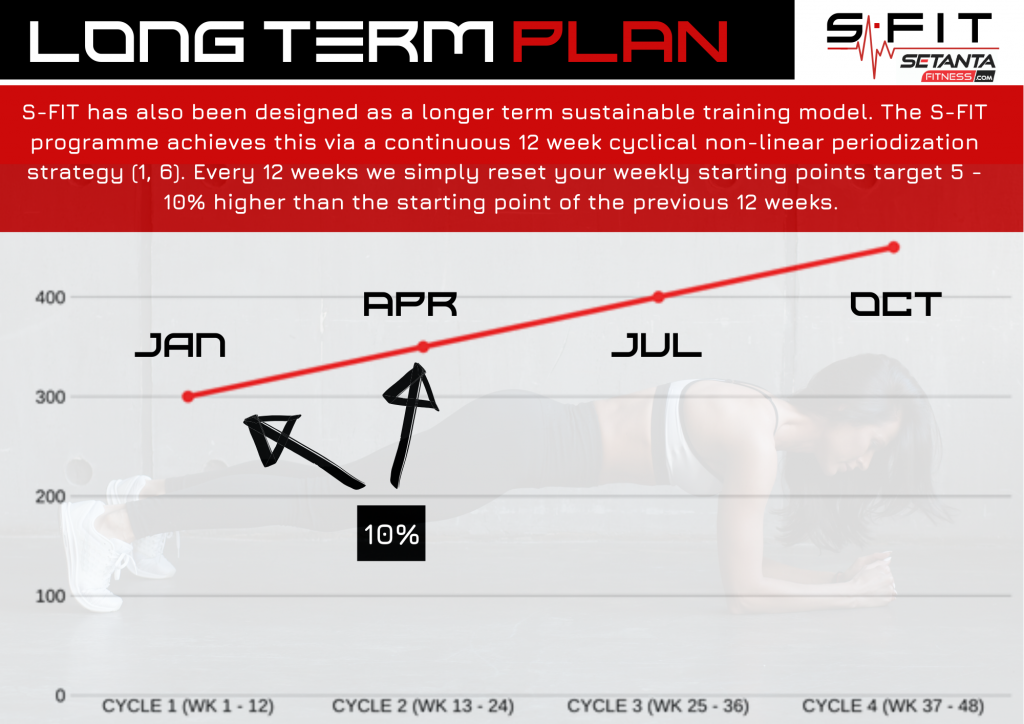 Available Plans
Just want to attend classes – No problem SFIT class only credits has been designed as a specific membership package for you. Just pay for the classes you want to attend. Thats it nice and simple!
For those like like a blend of classes and gym, then SFIT UL monthly membership has been designed with you in mind. You get unlimited access to classes and gym to fit around your busy schedule.
SFIT-PT has been designed for those who enjoy a mix of class based and individual training (Home or Gym) but who need the help of a Personal Trainer, particularly with respect to getting their nutrition under control.
This package includes unlimited S-FIT classes, unlimited gym access, individual nutrition planning via calories and macros planning, meal planning via our monthly recipe cookbook plus an individualised training plan via our online training apps which you'll be able to access via your mobile device.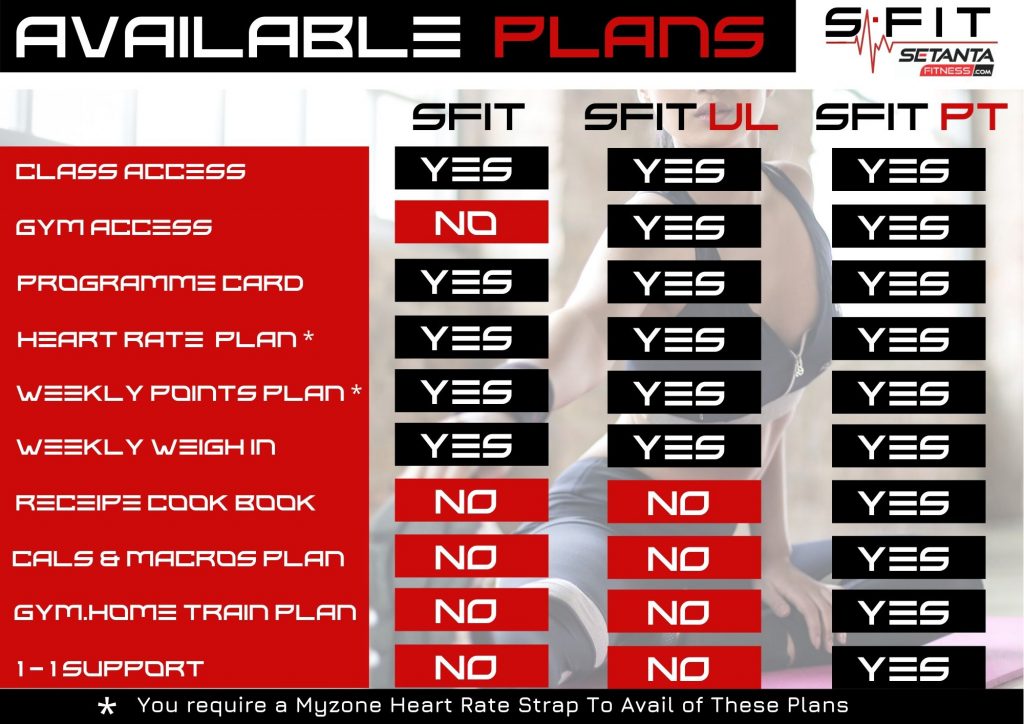 Myzone
Myzone lets us to deliver an interactive, engaging and personalised service to our members in a very simple way. Have a look at our quick video below explaining how Myzone works.
Here's Your £50 MZ3 Belt Discount
To maximise your experience on the S-FIT programme you will need to purchase the Myzone M3 Heart Rate Belt. Please use the link below to access a £50 discount on the Myzone RRP.
Not only does the Myzone MZ3 Belt work onsite, it is compatible with most bluetooth enabled devices such as apple watches and iphones, so your investment in your health is not just limited to onsite at Setanta Fitness HQ.
Once you receive your MZ3 in the post, download the Myzone App from you APP store and register your belt in the APP by using the Facility Code SETANTAUK001.
This will allow you to sync your belt when you walk into Setanta Fitness with the TV screen and also allow you to connect with all the other S-FITTER community members using Myzone. The belt also livestreams all your workouts (class or gym or home) to your APP.
Setanta's coaches will then be able to sync you onto the TV screen during the S-FIT classes as well as setting you remote challenges and goals to support you in your fitness journey with Setanta.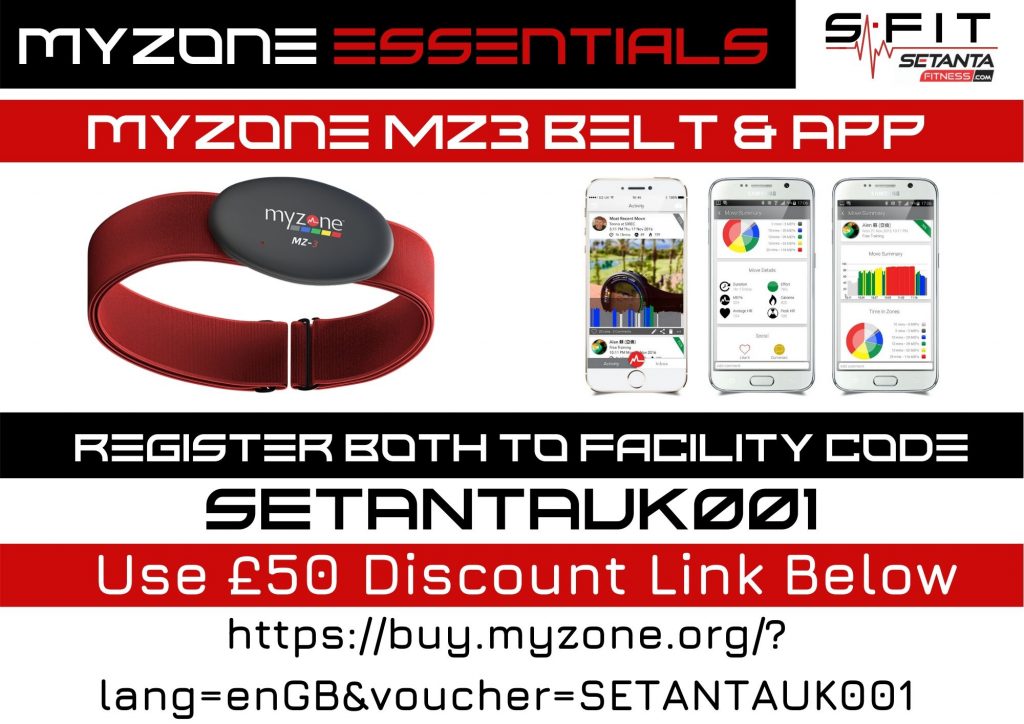 Click Here To Receive Your £50 Discount On The Myzone MZ3 Heart Rate Belt
Note:
S-Fitters can still turn up, attend classes and train without the Myzone MZ3 heart rate belt.
They will still receive their tracking cards, however, S-FIT coaches will be unable to set them an accurate weekly training intensity structure or MEPs training load targets.
We have of course a small number of demo belts onsite so you can try before you buy if you are still not convinced.
Become an S-FITTER
More information and links on how to "Get Ready" and become a member of Setanta fitness and book a S-FIT / Gym slot via our APP or Website can be found by clicking the links below to our previous reopening plans blog and to our how to guides webpage.
https://setantafitness.com/2020/05/27/setanta-fitness-reopening-plans/
https://setantafitness.com/how-to-guides/
References
Bompa, T.O. & Carrera, M.M. Periodization Training for Sports. 2nd ed. Champaign, IL: Human Kinetics, 2005.
Borg, G.A., Noble, B.J.J.E., & Reviews, S.S. Perceived exertion. 2: 131-154. 1974.
Buchheit, M. & Laursen, P.B. High-Intensity Interval Training, Solutions to the Programming Puzzle. Sports medicine. 43: 313-338. 2013.
Buchheit, M. & Laursen, P.B. High-intensity interval training, solutions to the programming puzzle. Part II: anaerobic energy, neuromuscular load and practical applications. Sports medicine (Auckland, NZ). 43: 927. 2013.
Grgic, J., Mikulic, P., Podnar, H., & Pedisic, Z. Effects of linear and daily undulating periodized resistance training programs on measures of muscle hypertrophy: a systematic review and meta-analysis. PeerJ. 5: e3695. 2017.
Haff, G.G. 17 The essentials of periodisation. Strength and Conditioning for Sports Performance. 404. 2016.
Kraemer, W.J., Häkkinen, K., Triplett-Mcbride, N.T., Fry, A.C., Koziris, L.P., Ratamess, N.A., Bauer, J.E., Volek, J.S., Mcconnell, T., & Newton, R.U. Physiological changes with periodized resistance training in women tennis players. Medicine & Science in Sports & Exercise. 35: 157-168. 2003.
Kraemer, W.J. & Ratamess, N.A. Fundamentals of resistance training: progression and exercise prescription. Medicine & Science in Sports & Exercise. 36: 674-688. 2004.
Laursen, P. & Buchheit, M. Science and Application of High-Intensity Interval Training: Human Kinetics, 2019.
Plisk, S.S.J.S., I, C.F.S.P.J., & Moody J, E.N.Y., Ny: Routledge Effective needs analysis and functional training principles. 181-199. 2016.
Sharkey, B.J. & Gaskill, S.E. Sport physiology for coaches. Vol. 10: Human Kinetics, 2006.
Stone, M.H., Collins, D., Plisk, S., Haff, G., & Stone, M.E. Training principles: Evaluation of modes and methods of resistance training. Strength & Conditioning Journal. 22: 65. 2000.