Strength and Conditioning CPD
Strength and Conditioning CPD
Continual professional development (CPD) is an important habit for the modern day strength and conditioning coach to partake in. It is so important that it is now recognised as professional requirement within the strength and conditioning industry by our governing bodies.
All accreditied UK strength and condtioning coaches (ASCC), such as myself, must submit a portfolio of CPD conducted during a two year period to maintain accreditation. For example during my last CPD cycle I attended two UK strength and conditioning (UKSCA) conferences and a certified UKSCA youth strength and conditioning workshop. I also completed my MSc with St. Mary's Univeristy, Twickeham, London, as well as working full time as a strength and conditioning coach primarily working with Gaelic Footballer's at both elite and sub-elite levels.
All this is aimed at ensuring strength and conditioning coaches are delivering a high professional standard of coaching to athletes across all sports. I have provided a link to the current UKSCA cpd model below.
https://www.uksca.org.uk/assets/pdfs/ASCCdocs/AccMemCPDModelv11.pdf
Informal CPD
However, CPD can also be informal. Over the past 3/4 years I have enjoyed great learning opportunities via informal discussions with researchers, professional coaches and fellow peers over a coffee and a beer. It continues to amaze me how open the best people in their field are to sharing their knowledge.
This is in stark contrast to the cloak and dagger approach I often come across within my own sport Gaelic football (GAA), but I must caveat that by saying the best GAA coaches I have worked with share a similar openness and passion to share their knowledge. It is now a quality in a fellow coach / manager I often reflect upon when deciding who I work with these days.
COVID-19
COVID-19 has presented an opportunity for me to re-invest my time back into strength and conditioning CPD after a 8 month sabbatical following the completion of my four years of study with St. Mary's University London, via the distance learning MSc in Strength and Conditioning course. I can't recommend this course highly enough.
https://www.stmarys.ac.uk/postgraduate-courses-london/strength-and-conditioning
My weekly CPD schedule now involves stepping out for a coffee, popping in my earphones and recommencing the process of "sharpening my saw" (Covey, 1989) again through podcasts, reading and webinars.
Most recently I joined up with a range of other Irish S&C coaches to talk shop via "Zoom" which I think is a super initiative and great example of S&C coaches using their time effectively to not only invest in their own strength and conditioning CPD but to also support eachother during a time of great uncertainty. Any other Irish S&C coaches interested in joining the group should contact the group leader Michael Mullane http://www.twitter.com/mullane90
CPD for me is not however always strength and conditioning related material. Recently I watched a Netflix series on Bill Gates and one of the amazing things that popped out for me was his ability to retain and critically process a huge amount of information from reading books. Unfortunately not a quality I share with him.
Nevertheless, this lead me to reflect upon my own learning retention and how I could become better. I should say at this point #gettingbetterneverstops was a phrase coined by my mentor and former Collingwood legend Mick Erwin and is something I try to reflect on and live by at all times. Reflection and curiousity lead me to the "Cone/Pyramid of Learning".
The Cone of Learning
Now before my old lecturers at St. Mary's shake their heads, I do need to clarify that, I did infact spend the next hour reading and attempting to critically analyse the cone/pyramid.
It would seem that although this is a very popular learning retention theory, there is actually a lack of hard scientific evidence to support its claim that one method is more advantageous than the other (Letrud & Hernes, 2018).
I came to the opinion that rather than one method is better than an other, it would seem that a combined method seemed to be most beneificial to all learners. It would seem that over time, as an individual becomes more experienced and knowledgable, this naturally leads to a more peer lead proactive approach to learning.
As a coach this makes more sense to me moving an athlete though a general preparation phase to a sports specific or competitive phase and doing different things at different times in the process, building upon the work done during the previous phase.
Sharpen My Saw
So to help me "sharpen the saw" (Covey, 1989), I thought I would try to share some strength and conditioning related information informally via a Quiz through my blog and online channels. By doing so I hope to become a more knowledgable coach through retaining more information and building upon my reading, listening, debating and watching CPD related activities.
Additionally, I hope to have some fun with fellow coaches and athletes interested in strength and conditioning CPD and continue to build my network of friends and colleagues. So grab a coffee and lets have a bit of craic!
Strength and Conditioning CPD Crossword Quiz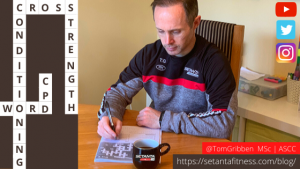 I have created a 10 – 15 mins strength and conditioning CPD crossword quiz to help "sharpen your saw" (Covey, 1989). You can access this via one of the two links below. One is an interactive version allowing you to play online and one is a click, print and play version. I have also provided the clues below if you are not a link type person. Please note: The links bring you straight to the crossword quiz with no pop-ups or forms to complete. I just want you to have some fun without any hassle.
To access the interactive crossword version click the interactive version link directly below.
To play just click on to a vertical or horizontal line and the clue will appear. Type in your answer. When finished simply click the "check puzzle" button under the crossword to reveal the answers.
https://setantafitness.com/SandC2.html
If you prefer to print off the crossword and clues simply click the link directly below and print off. I have included a link to the answers after the clues below.
https://setantafitness.com/S&C2ClickandPrint.html
If you prefer to just test your knowledge here are the clues below.
Across
A bit wonky (9)
A piece of equipment used by many S&C coaches in the weights room (7)
A fundamental move that has many variations (4)
An acronym used to measure exertion (3)
A connective tissue connecting bone to muscle (6)
Sports scientists sometimes have a relationship with him (7)
The rate of change of velocity with respect to time (12)
The rate of doing work (5)
More than once but not a set (10)
Heart & Blood System (14)
An acronym describing a system used to track an athletes external load (3)
A main lift used in every Texas Method session (5)
A system of glands (9)
Planning and managing workloads (13)
Down
An energy substrate important during high intensity exercise (12)
A method of recovery massaging without using hands (12)
Training at a different level (7)
A shocking type of training (10)
The physical ability to apply maximal force (8)
A fundamental training principle (11)
An acronym used to describe a non-continuous and vigorous form of conditioning (4)
A training domain above maximal aerobic capacity (12)
The area under a force time graph (7)
A wide grip exercise moving the bar from ground to overhead (6)
Answers
You can find all the answers by clicking the answer link below.
https://setantafitness.com/SandC2Answers.html
Stay Connected
Hope you enjoyed my thoughts on Strength and Conditioning CPD and the crossword quiz.
If you like and are interested in receiving more strength and conditioning quizzes and blogs on a monthly basis please take 15 secs to fill in your contact details in the form below.
Alternatively you can stay in touch via any of my social media channels below where you will be able to access lots of practical Strength and Conditioning CPD related material.
https://www.youtube.com/setantafitness
http://www.twitter.com/TomGribben
https://www.instagram.com/tomgribbensetantafitness
Thanks Tom!
References:
Covey, S. R. (1989). The 7 Habits of Highly E ective People. Simon & Schuster.
Guggenheim, D. (2019) Inside Bill's Brain: Decoding Bill Gates [Television Series] Los Gatos, CA: Netflix.
Letrud, K., & Hernes, S. (2018). Excavating the origins of the learning pyramid myths. Cogent Education, 5(1), 1518638.
UKSCA. (2020). UKSCA Accredited Members Continuing Profressional Development (CPD) Model [PDF file]. Retrieved from https://www.uksca.org.uk/assets/pdfs/ASCCdocs/AccMemCPDModelv10.pdf.