Setanta Fitness Free 5 Week Home Strength and Conditioning Training Plan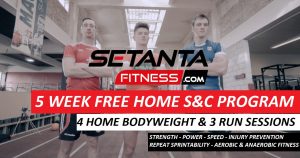 FREE TO ALL
Setanta Fitness 5 Week Home S&C Training Plan
It's a 5 Week, 32 Day progressively periodized plan that requires no equipment. We've included
3 running sessions per week, aimed at aerobic, anaerobic & neuromuscular physical qualities which includes sprint and cchange of direction work. Also included are
4 Homeworkouts Per Week
Aimed at maintaining strength levels obtained during preseason, as well as using the time now available to develop more athletic qualities such as power & speed. The fourth workout uses single limb and coreexercises to focus on injury prevention
The Programme is ideal for anyone in teamsport whose training or competition has been currently interrupted due to the COVID Pandemic.
The Programme is designed to maintain key aspects of your physical ffitness, developed in preseason, such as strength & aerobic fitness, however it may also help to develop some additional athletic physical qualities such as power, speed & repeatsprintability otherwise sometimes under developed due to time constraints of training vs. competition during a normal season.
The Plan is FREE to ALL
To access the plan please complete the contact form below and we shall send you a PDF copy of the Training Plan and a link to the Setanta Fitness YouTube channel to access videos of the exercises prescribed in the plan.
https://www.youtube.com/channel/UCtqUzTNXS2h7M03qOjDR5Ag
A small gesture to help get you through this time safe and well. Take Care!
Team Setanta